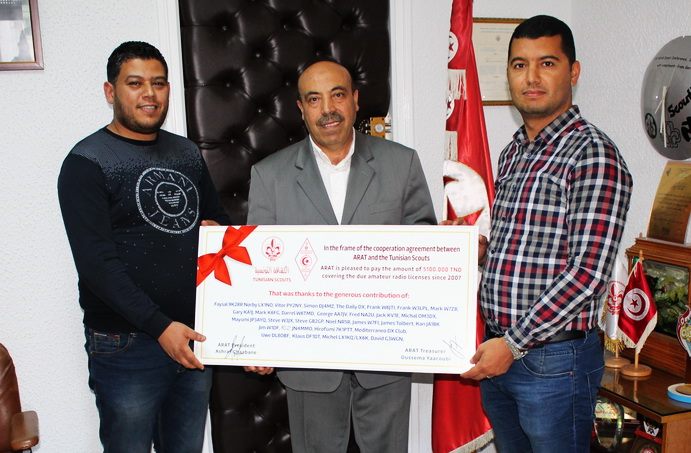 In the frame of the cooperation agreement between ARAT and the Tunisian Scouts, ARAT is pleased to pay the amount of 5'100.000 TND covering the due amateur radio licenses up to 2017. ARAT will also pay the licenses up to 2019 once they become available.
ARAT would like to thank the following hams for their generous contributions:
Faisal 9K2RR, Norby LX1NO, Vitor PY2NY, Simon DJ4MZ, The Daily DX, Frank W6JTI, Frank W3LPL, Mark W7ZB, Gary KA1J, Mark K6FG, Darrel W6TMD, George AA7JV, Fred NA2U, Jack KV1E, Michal OM3DX, Mayumi JP3AYQ, Steve W3JX, Steve GB2GP, Noel NR5R, James W7FI, James Tolbert, Jim W1DF, 和之 JN4MMO, Hirofumi 7K1PTT, Mediterraneo DX Club, Uwe DL8OBF, Klaus DF1DT, Michel LX1KQ/LX6K, David G3WGN, Kan JA1BK, Marko DJ4MH, Tom DG3FK
Photo: Montassar Kammakh, ARAT Vice-President – Wahid Laabid, General Commissioner of Tunisian Scouts – Ashraf Chaabane, ARAT President.